Browse Items (3 total)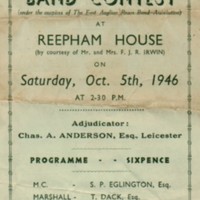 Programme for a Band Contest at Reepham House held on 5 October 1946.
Note that Gordon Frankland is the Secretary (of the Reepham Recreation Ground Memorial Fund) and S. P. Eglington the Compere.
E. T. Ruffles is conducting Fakenham Town Band &…
Notes of band members appearing in a series of 21 photographs in the Reepham Society Collection.

The names are given as the tags for this item.
Tags: Adcock, Alford, Allen, Arthurton, band, Band Hall, Barber J, Barker, Barrett, Barrow, Barsted, Bishop, Cockaday, Cocking, Colls, Egmont, Fakenham, Frankland, Freestone, Frost, Gaskin, Guyton, Hall, Hardiment, Harrison, Hartley, Hatley, Hatton, Holst, Howes, Humphrey, Hunt, Ivins, Ling, Long, Mason, McCarter, Moore, Morley, Moy, Pask, Piercy, Platten, Ransome, Reeder, Reepham House, Reynolds, Riseborough, Rudd, Ruffles, Seals, Secker, Simmons, Smith, Stearman, Swayze, Thair, Tubby, Tuddenham, Turner, Voutts, Ward, Woods, Wright
A4 format calendar with historical photographs and smaller modern colour photographs of the same view together with notes and page per month layout.
Tags: 1830s, 1870s, 1880s, 1890s, 1900s, 1910, 1911, 1912, 1920, 1947, 2015, Back Lane, Bass, Black Diamonds, Burston, cattle market, Cawston Road, Chapel Walk, Chilley, Cutting Station, Dereham, Eades Mill, Echo Lodge, Eglington, Fairway Garage, farrier, Farriers Arms, Fire Brigade, Fisher, Fishers Alley, flood, GER, Hall Road, Higdon, Howard, Hunt, Ireland, Irelands, Jeary, Malthouse Yard, Market Place, Marriots Way, Massey and Bridges, Methodist Chapel, Moor Lane, Motts Pharmacy, Newland Villas, Old Brewery Lane, Ollands Road, Orchard Lane, Overton Way, Peakome, Pightle Way, Randell, Reepham Community Press, Reepham House, Reepham Station, Roy, Roy's of Wroxham, Salvation Army, School Road, Self, signal box, St Johns Alley, St Michael's, station master, Station Plain, Station Road, Station Stores, steam engine, Stocks Hill, Sun Barn Pit, Sun Barn Road, The Moor, The Ollands, Tuddenham, Tufts, Tym, undertaker, Whall, wheelwright, Whitwell, Whitwell Road, Willimot, Wood Dalling