Browse Items (6 total)
These poems are selected from a large number of poems submitted to a poetry competition which was part of the Reepham Literature Festival in 1999
Tags: 1999, Adams, Atkins, Bailey, Barker, Barnes, Birks, Brooks, Charville, Cox, Crisp, Curtis, Davies, Denyer, Gray, Hannant, Harris, Harrison, Hindon, Jackson, Lambert, Lieberman, Martin, Munn, Olney, Page, Phillips, poem, Reepham Society, Riggs, Smith, Somerville, Spencer-Steed, Starsmore, Steed, Taylor, Tebbett, Thompson, Vick, Ward-Brown, Warren, Wilton-Pattison, Yerby
Programme of items performed by Reepham Band at the Theatre Royal, Norwich in 1944; including solos by Pamela Barsted & Harry Moore; with songs by Robert Brown & piano selections by Mrs R S Smith. Compered by Gordon Frankland.
Notes of band members appearing in a series of 21 photographs in the Reepham Society Collection.

The names are given as the tags for this item.
Tags: Adcock, Alford, Allen, Arthurton, band, Band Hall, Barber J, Barker, Barrett, Barrow, Barsted, Bishop, Cockaday, Cocking, Colls, Egmont, Fakenham, Frankland, Freestone, Frost, Gaskin, Guyton, Hall, Hardiment, Harrison, Hartley, Hatley, Hatton, Holst, Howes, Humphrey, Hunt, Ivins, Ling, Long, Mason, McCarter, Moore, Morley, Moy, Pask, Piercy, Platten, Ransome, Reeder, Reepham House, Reynolds, Riseborough, Rudd, Ruffles, Seals, Secker, Simmons, Smith, Stearman, Swayze, Thair, Tubby, Tuddenham, Turner, Voutts, Ward, Woods, Wright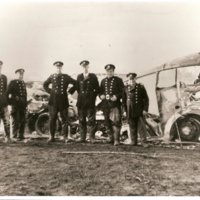 Firemen present include:Harold Reeve, Reggie Seals, Bob Smith, Bob Hindry,L.J. Stearman and H.W. Voutt.
Tags: 1958, Buxton Heath, Fire Brigade, Fire Tender PAH 795, Hevingham Heath, Hindry, Reeve, Seals, Smith, Stearman, Voutt